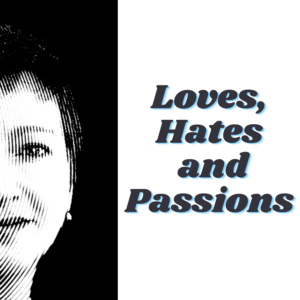 Welcome to Loves, Hates and Passions, the podcast ABOUT educators. I'm your host, Lyn Stone, and I love reading books and articles on education and I love hearing the leading lights in the field talk about their work, but often, I'm curious to find out their backstory. What makes them tick? What are their likes and dislikes? Who are their influences both in an outside education? What do they like doing besides writing and presenting?
In this increasingly impersonal world, this podcast takes an intimate view of the humans behind the ideas.
EPISODE #1 OLLIE LOVELL
Listen as Ollie Lovell (@ollie_lovell) talks about his childhood, his music and his genetic predisposition to conserving his energy.
Session Links:
EPISODE #2 TOM BENNETT
In this episode, I interview behaviour guru and author Tom Bennett. Tom is the founder of ResearchEd as well as a sought-after speaker on all things education, and most notably, behaviour in schools.
Tom hails from not far from my own family seat, and it's interesting to note how I inadvertently slipped into a much stronger Scottish accent while talking to him.
Session links:
Episode #3 Pamela Snow
In this episode, I talk to Professor Pamela Snow, a speech pathologist, psychologist, researcher, and author at the school of education at Latrobe University in Victoria Australia. Pam has research links with the education, welfare, and justice sectors and she is frequently called upon to address education, health, welfare, and forensic audiences. Pam is the co-author of one of the few books I have read multiple times. It is called Making Sense of Interventions for Children with Developmental Disorders, and is an essential guidebook for anyone considering an intervention, resource or a product to assist children to develop and learn. Pam and I talked of many things, including mondogreens and how an apple core led her away from being a concert flautist and into speech pathology.
Session links
Episode #4 Steve Dykstra
Steve Dykstra is a psychologist, social scientist, statistician and a founding member of the Wisconsin Reading Coalition. He's a highly regarded and in-demand speaker on education, trauma, and often on the intersection of both.
Steve and I talked about wire and cloth mothers, his unusual biologically primary ice talents, how speaking boldly gets people to listen, photography, lepidoptery, duck-sized horses, how he made Barak Obama 52c richer and was enriched in the process, and the nature of evil itself (it got quite dark at one point, but that's how we like it!).
Steve has also kindly shared a link to his gallery of photographs.
Session links